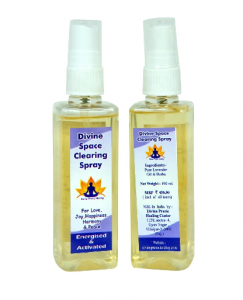 Cleansing Negative Energies from Our Space ~ Keeping Our Homes/Offices High Vibrational
Our homes are our sacred space, where we retreat and replenish our souls from the outside world. However, they can also be a breeding ground for negative emotional energies from previous owners or from ourselves, families and friends.
Everything is energy. Good moods, bad moods, addictions, viruses, words, thoughts and feelings all create energy. As we live in our homes, a buildup of energy occurs depending on the way we choose to live our lives. If we want a high vibrational home, we need spend time doing things that are high vibrational ~ like meditation, listening to high vibrational music, choosing to bring joy into our mundane activities like cleaning, cooking, accountant work, yard work etc.. and interacting with our relationships in a Loving, Grounded, Compassionate, Peaceful manner.
However, no one's home is always high vibrational. We have bills to pay, emotions to deal with, difficult relationships, illnesses, low vibrational guest etc. Not to mention that everyone in our life ~ are our soul mates. We are each participating in each other's soul evolutions and sometimes we create negative situations to learn from so we can advance our souls.
So we want to talk about how to clear negative unwanted energies in our environment that we have created ourselves, negative energy that has been projected onto us or negative energy that has been brought in from another soul mate. Cleansing the energy in our home is just as important, if not more important, as normal house cleaning and organization. Cleansing your space energetically should be done at least twice a week if not more and especially if you have just moved into a new space, if someone has been sick or if there has been some sort of emotional upset where negative energy has been created. There are many other ways to clear space but these have been the most expensive & time consuming. Divine Pranic Healing Center now introduced a Space Clearing Spray. It is to be made with real essential oils not synthetic fragrances. Essential oils carry a specific vibration from the specific flower. Lavender is the highest vibrating flower. Lavender clears out energies that will not leave a space. Traditionally used to neutralize bad frequencies during cleansing rituals. Lavender is also known to be relaxing, so having it in a room before a social event can prevent negative energy before it starts. Peppermint oil, Eucalyptus oil, Tea tree oil, Ylang-Ylang oil and Myrrh purify the environment. These powerful astringent actions clear tension and negative vibes from the space.
Lavender is from the Mint family. Historically, lavender is universal oil that has traditionally been known to balance the body and to work wherever there is a need.   It may promote consciousness, health, love, peace and a general sense of well-being. Lavender oils for stress relief showed a significant cleansing effect on the front and back solar plexus chakras. The effects of Lavender oil in a spray bottle quickly diffuse negative energy in area sprayed. The effects of Lavender oil significantly increase size of chakras and also helps reduce contamination. You can use daily directly on the Solar Plexus Chakra, and Ajna chakra for stress relief.
We highly recommend using this Divine Space Clearing Spray around the homes/work places/offices for:- 
Anyone who is highly sensitive to the energies of others ~ an empathic soul.

To all massage therapist, chiropractors, nurses, doctors, counselors, life coaches, yoga instructors and energy healers for cleansing of themselves after seeing their clients ~ for space clearing and also to use on their clients to help dislodge stuck negative energy.

For kids, teens and teachers when they get home, after spending hours in a low vibrational school environment.

For people who have stressful jobs that deal with a lot of people.

For people who are going through deep, painful soul lessons and have a lot of draining energetic cords that need to be dissolved.

For people who have an active spiritual practice. It is great to use before meditation to raise the energy frequency of the energy field. You can also use it to raise the vibration of your sacred space, as well as, use it to cleanse crystals.

For anyone who is interested in spiritual/energetic hygiene.
Divine Space Clearing Spray contains living energies of pure lavender oils & herbs. Charged with the healing power of crystalline structures. Especially created to help activate positive energies while dispelling negativity. Spray around your room/office. Ingredients: Pure essential oils of Lavender, Peppermint, Eucalyptus, Tea tree, Ylang-Ylang, Myrrh & herbs.
Net Weight: 100 ML.
Offer Price:  INR Rs. 450/-(including delivery charge in India)
Delivery in 7 working days [For Delivery in India]