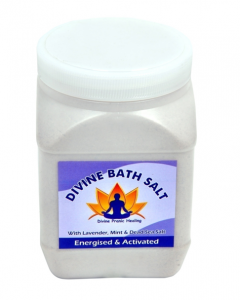 Bath Time Aromatherapy Relaxation
In Alchemy and ancient processes of personal transformation, Salt is the symbol for knowledge & wisdom. Salt is the breath of Divine Energy. Salt has been called "The Tears of God" and with good reason, it is one of the purest substances on the earth.  Sea salt is alkaline and therefore helps to de-acidify the body and raise the body's pH levels. Negativity cannot adhere to salt – therefore it is ideal for cleansing one's self.  Before beginning ritual, even if only to smudge/cleanse a space, many individuals like to begin by taking a spiritual salt bath.  A salt bath can be just the thing you  need, to "re-set" the energy and allow you to move forward.
In the polluted atmosphere, one can make effort to keep the healthy and positive. The body consists of positive energy however stress is negative energy. That negative energy will begin to build up & without realizing it can become devastating to you physically, mentally and to all of those around you. Divine Pranic Healing Center has introduced mixture of various bath salts, herbs & incense for health, happiness, harmony, love, joy, peace, prosperity and spirituality. Divine Bath salt for day to day utility to absorb negative energy and expel positive energy in body. Divine Sea Salt Baths are a wonderful way to wash away any negative energy accumulated in your life as well as using a Removal of negative energy Spell or Removal of bad luck/karma. Herbs are added to assist in removal of negative energy as well as to enhance things in your life depending on purpose. Divine Bath Salt contains 84 Mineral elements. These same 84 Mineral elements are found in our bodies. Modern scientist's determined that 24 of these elements are essential for life and good health. Divine bath Salt Cleanse is ideal to clear your Aura and Chakras from negative energies and energetic blocks.
Use our Divine Bath Salts recipe for cleansing your aura & chakras as well as many wonderful health benefits including:
Reducing stress, tension and anxiety.

Calming the nervous system.

Enhancing the removal of waste from the body.

Clearing heat, fever and inflammation.

Improving circulation of blood and lymph.

Reducing aches and pains.

It helps to refresh the skin and remove fatigue from the body.
Recipe for Divine Bath Salt
Put a 'Do Not Disturb' sign on the bathroom door.

You can enhance the atmosphere by lighting candles or playing relaxing music.

Fill your bath tub with warm water, the level is up to you. Don't make it so hot that you'll get uncomfortable.

Add 2-3 good handfuls of Divine Bath Salt powder.

Soak for about 15-20 minutes. You can assist the process by relaxing and feeling good about allowing yourself this time just for you.

Make it your intention to let go of all negativity.

When complete, rinse off the salt with a quick shower if you desire, but this is not necessary.

Enjoy feeling lighter and more vibrant.

Take a salt water bath no more than twice a week.

For external use only.
If you have any medical conditions please consult a health professional before use.
Ingredients: Indian Ocean & Dead sea salts, Essential oils of Lavender, Eucalyptus, Tea tree, Ylang-Ylang, baking soda, mint & herbs.
With Energized and activated by certified Pranic Healers.
Net Weight: 1 Kg /1000gms
Offer Price:  INR Rs. 750/- (including delivery charge in India)
Delivery in 7 working days [For Delivery in India]